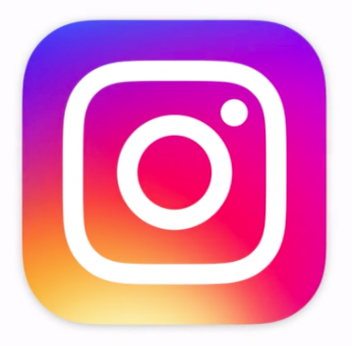 La force des rêves / The power of dreams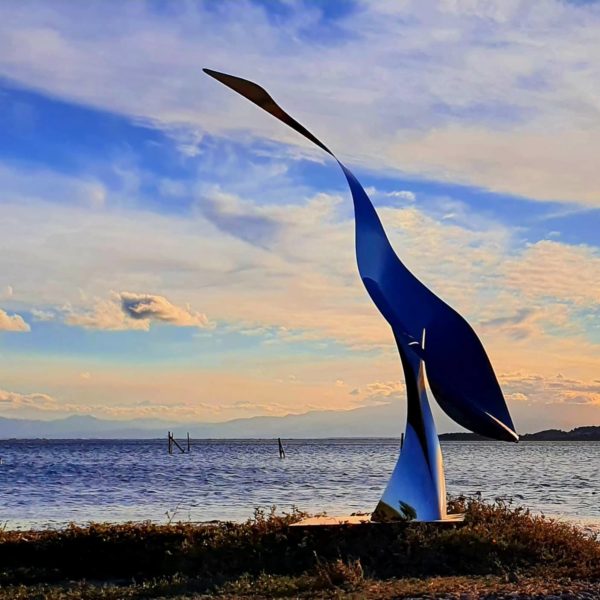 Tsuru, la magnifique grue japonaise est un symbole de longévité et de bonheur.
Il existe de nombreux contes anciens mettant en scène des grues: la riziculture commence grâce à une grue qui amène la première pousse de riz dans son bec. Cette croyance se retrouve aujourd'hui dans l'origami. La jeune Sadoko Sasaki plie jusqu'à mile grues pour faire un voeu de paix.
Tsuru, the magnificent Japanese crane is a symbol of longevity and happiness.
There are many ancient tales featuring cranes: rice cultivation begins with a crane which brings the first sprout of rice into its beak. This belief is found today in origami. The young Sadoko Sasaki bend up to one thousand cranes to make a wish for peace.
Paysage et Formes en mouvement / Skyline and Moving forms
Evoquant la grâce du monde végétal et animal, les sculptures de Patjiro se jouent des vibrations et de l'équilibre à l'image d'un groupe d'oiseaux migrateurs parcourant l'immensité du bleu ciel.
Evoking the grace of the plant and animal world, Patjiro's sculptures play with vibrations and balance, like a group of migrating birds roaming the vast blue sky.
TSURU "oiseau du vent" / TSURU "wind bird"
Mobile et souple "Les oiseaux du vent" prennent vie par la force du vent. Ils dansent, oscillent, tout en réfléchissant le bleu des cieux, les couleurs du soleil et la variété du paysage.
Mobile and flexible "Les oiseaux du vent" come to life due to the force of the wind. They dance, oscillate, while reflecting the blue of the skies, the colors of the sun and the variety of the landscape.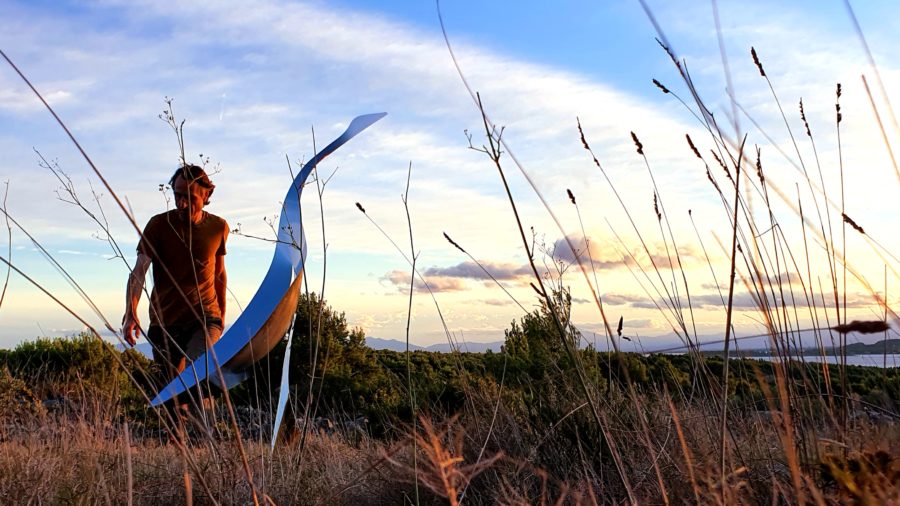 PATJIRO (Patrick Giraud)
BIO
Patjiro est un sculpteur admiratif du vivant et des formes en mouvement.
Auparavant designer avancé pour Honda R&D à Tokyo, il pratique la calligraphie japonaise à la recherche d'un geste pur et spontané. Il imagine une harmonie possible avec la nature à travers des expérimentations et des visions. Il travaille à main levée avec des matériaux durables comme le bois et le métal.
Il est diplômé d'un Master of Art du Royal College of Art de Londres. Il a obtenu un Giugiaro Innovation Award. Ses oeuvres intemporelles évoquent à la fois le Zen, les grands espaces sauvages du Kenya et la beauté solaire de la Méditerranée.
Patjiro is a sculptor who admires life and moving forms.
As a former Honda advanced designer in Tokyo, he practices japanese calligraphy looking for a pure and free gesture. He imagines some proposals for more harmony with nature through experimentations and visions. He works hand's on with sustainable material's like wood and metal.
He is graduated with a Master of Art from the Royal College of Art in London. He is rewarded by a Giugiaro Innovation Award. His timeless works of art are inspired by Zen, kenyan wide landscapes and Mediterranean solar beauty.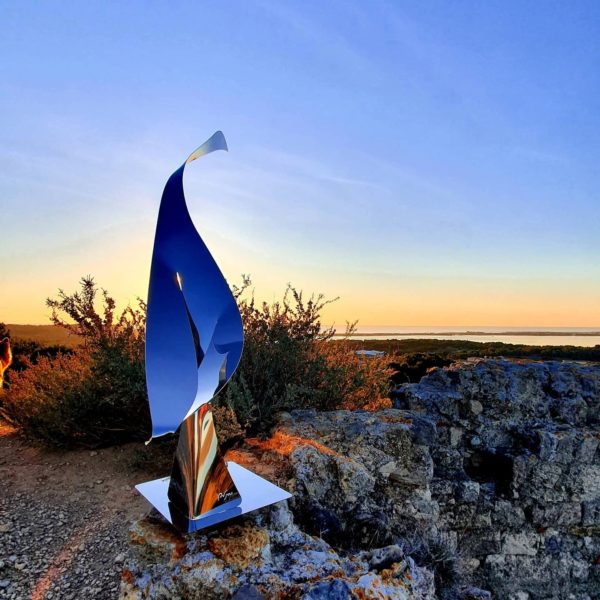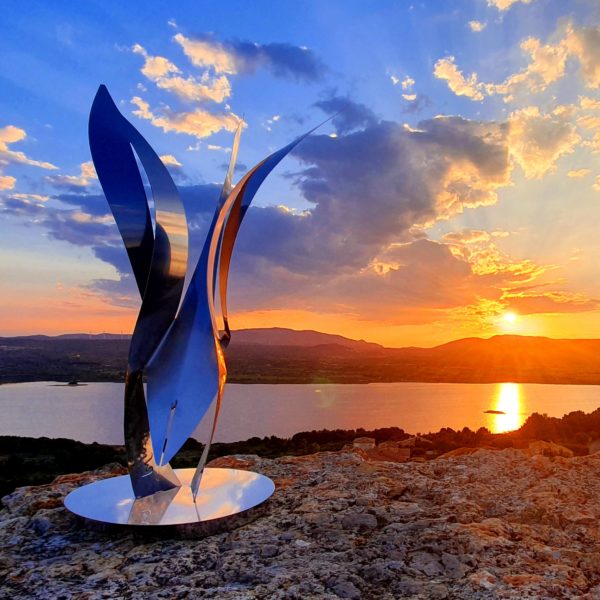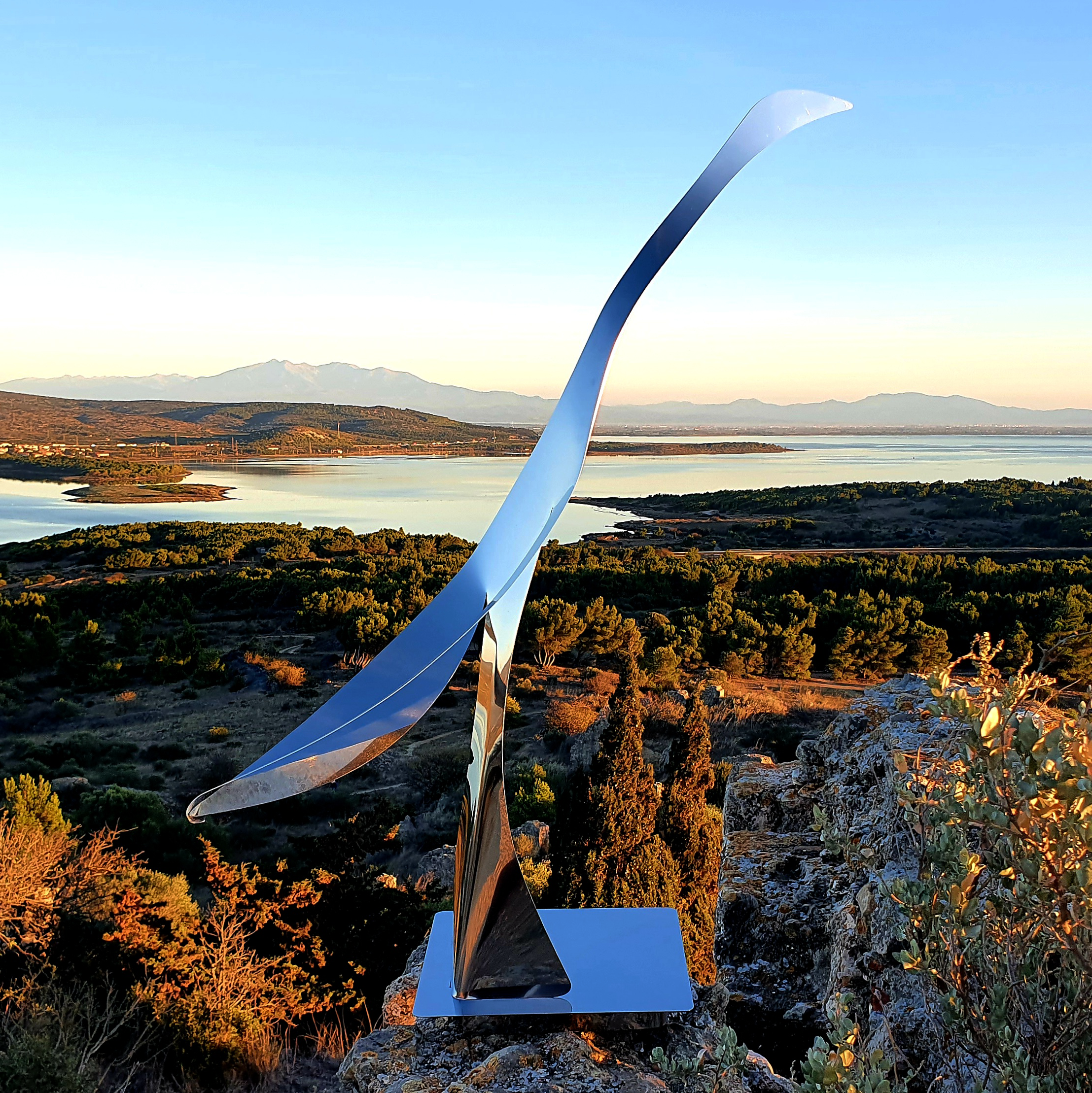 Photo à Leucate Sud de la France / Photo in Leucate South of France
Titre de l'oeuvre : TSURU (oiseau du vent)
Série limitée à 9 exemplaires signés par l'artiste.
Dimensions : hauteur 1m70, longeur 1m 60, largeur 60 cm
Matériau durable : Inox
—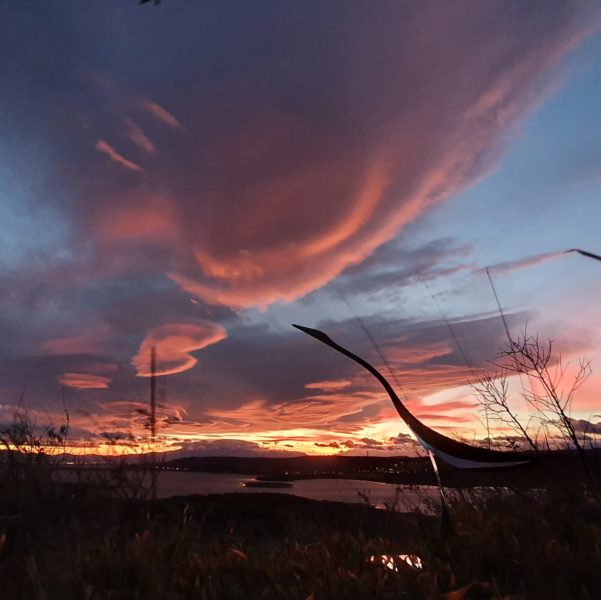 EXPOSITIONS, EXHIBITIONS
2022 "Aériennes" Sculpture Inox (patjiro) et Musique (Chandra Diallo) avec Au Détour des Arts, Spectacle itinérant dans 3 lieux, CRAC de Fontenoy, Centre d'Art / La Poéterie / Le Chateau de St Fargeau (Yonne)
2022 "Les Ailes déployées" Sculpture Inox, Le printemps des Remp'art Villefranche de Conflent
2022 " Femme" Fil de laiton Galerie Vent & Compagnie (Leucate)
2022 "les oiseaux du vent"participation au projet Coeur de Vie à (Torreilles)
2020/2021/2022 "les oiseaux s'élancent" Sculpture Inox, Les Vendanges de l'Art (Leucate)
2021 "L'envol des signes" Sculpture Inox, CRAC de Fontenoy, Centre d'Art (Yonne)
2020 "Instinct" Mobiles géants, Laiton, ART CITE (Fontenay sous bois)
2019 "La petite plante Nomade" Mobiles et plantes à l'Atelier (Vincennes)
2018 "Totem" Mobiles et fil de laiton, Atelier de l'artiste S.M. Art (Montreuil)
2016 "Sur le fil" Laiton l'Atelier d' Ola Abdallah (Paris)
2009 "Arbres" Pierre et bois, Galerie du Chateau d'Albigny (Albigny sur saone)
2005 "Orion" Sculpture Aluminium, Galerie Roger Tator ( Lyon)
2003 "Horus" Sculpture Aluminium, Galerie Roger Tator ( Lyon)
2001 " Peinture" Encres, Galerie les Lieux de Garance (Saint-Rémy–de-Provence)
2000 "Blanc de blanc" Platres a la Galerie éditions Futura (Paris)
1999 "Icare, une goutte d'eau", "Orion" Aluminium, Galerie Roger Tator ( Lyon)
1996 "Kuruma Shodo" Calligraphie, Mainichi Shodo Exhibition (Tokyo, Japon)
1994 "Centaur project" sculpture mobile, clay, RCA Exhibition Londres, GB)
1992 " Vie" Sculpture fil de fer et toile sur les murs de Bratislava, (Slovaquie)
1988 " Fresque sur parois rocheuse pour vue d'avion" Réserve de Nasolot, (Kenya)
DEVIS sur demande
kindly ask for an ESTIMATE
Telephone +33 652290402