La force des rêves / The power of dreams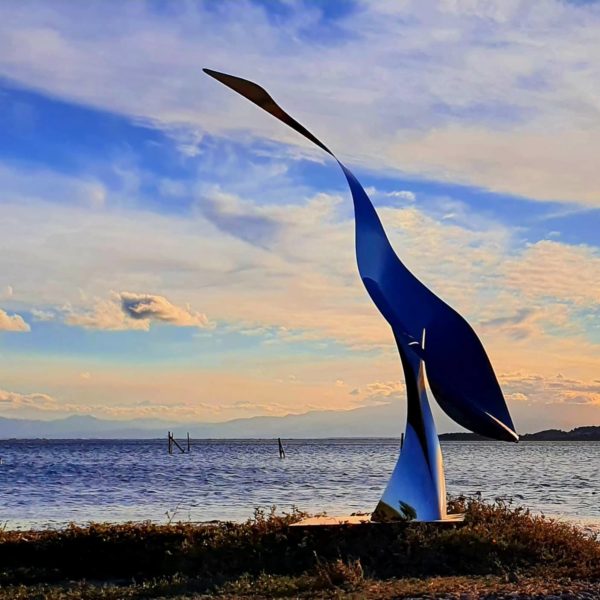 Formes en mouvement / Moving form's
EVOQUANT la grâce du monde végétal et animal, les sculptures de Patjiro se jouent des vibrations et de l'équilibre à l'image d'un groupe d'oiseaux migrateurs parcourant l'immensité bleu du ciel.
EVOKING the grace of the plant and animal world, Patjiro's sculptures play with vibrations and balance, like a group of migrating birds roaming the vast blue sky.
TSURU (oiseau du vent) / TSURU (wind bird)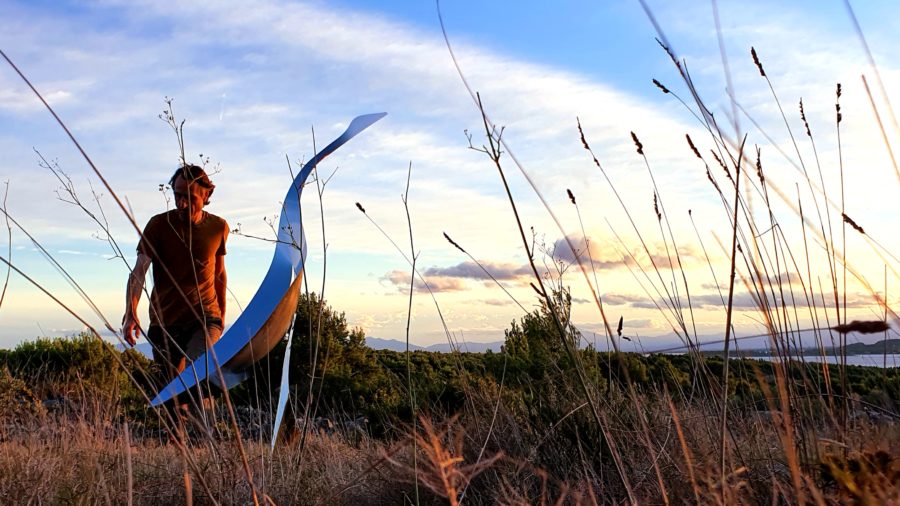 PATJIRO (Patrick Giraud)
BIO
Patjiro est un sculpteur du mouvement, admiratif du vivant.
Auparavant styliste avancé à Tokyo pour Honda, il pratique la calligraphie japonaise à la recherche d'un geste pur et spontané. Il imagine une harmonie possible avec la nature à travers des expérimentations et des visions. Il travaille à main levée avec des matériaux durables comme le bois et le métal.
Il est diplômé d'un Master of Art du Royal College of Art de Londres. Il a obtenu un Giugiaro Innovation Award. Ses oeuvres intemporelles évoquent à la fois le Zen, les grands espaces du Kenya et la beauté solaire de la Méditerranée.
Patjiro is a movement sculptor, admiring the living.
As a former Honda advanced designer in Tokyo, he practices japanese calligraphy looking for a pure and free gesture. He imagines some proposals for more harmony with nature through experimentations and visions. He works hand's on with sustainable material's like wood and metal.
He is graduated with a Master of Art from the Royal College of Art in London. He is rewarded by a Giugiaro Innovation Award. His timeless works of art are inspired by Zen, kenyan wide landscapes and Mediterranean solar beauty.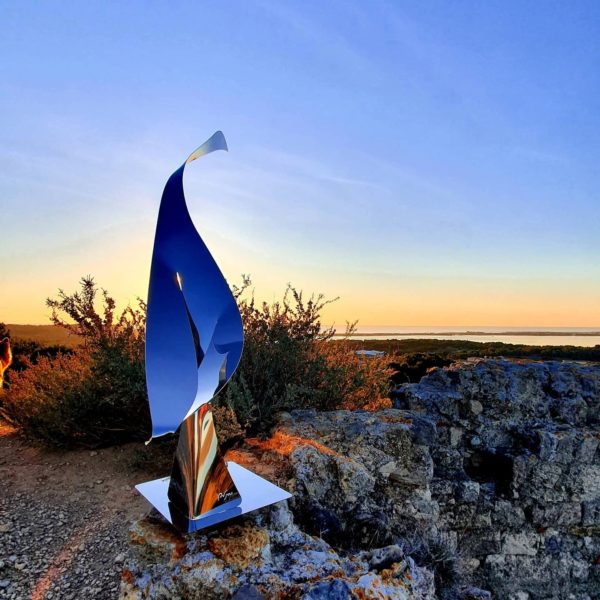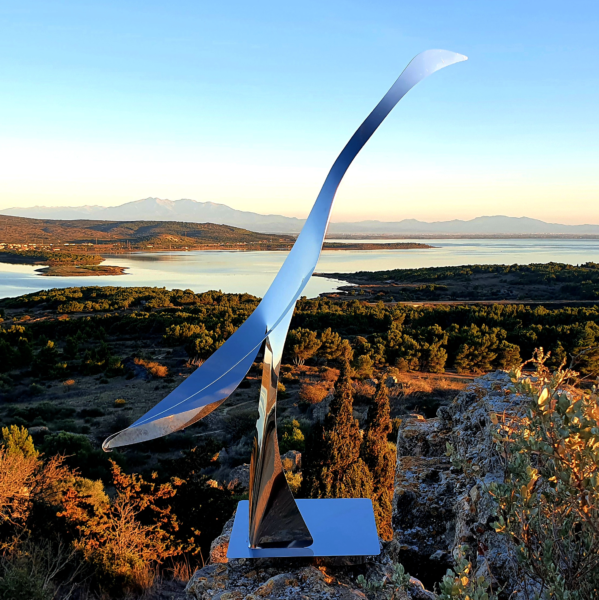 Titre de l'oeuvre : TSURU (oiseau du vent)
Série limitée à 9 exemplaires signés par l'artiste.
Dimensions : hauteur 1m70, longeur 1m 60, largeur 60 cm
Matériau durable : Inox
—
EXPOSITIONS, EXHIBITIONS
2020/21 "les oiseaux s'élancent" Inox, Les Vendanges de l'Art (Leucate)
2021 "L'envol des signes" Inox, CRAC de Fontenoy, Centre d'Art (Yonne)
2020 "Instinct" Mobiles géants, Laiton, ART CITE (Fontenay sous bois)
2018 "Totem" Mobiles et fil de laiton, Atelier de l'artiste S.M. Art (Montreuil)
2016 "Sur le fil" Laiton l'Atelier d' Ola Abdallah (Paris)
2009 "Arbres" Pierre et bois, Galerie du Chateau d'Albigny (Albigny sur saone)
2001 " Peinture" Encres, Galerie les Lieux de Garance (Saint-Rémy–de-Provence)
2000 "Blanc de blanc" Platres a la Galerie éditions Futura (Paris)
1999 "Icare, une goutte d'eau", "Orion" Aluminium, Galerie Roger Tator ( Lyon)
1996 "Kuruma Shodo" Calligraphie, Mainichi Shodo Exhibition (Tokyo, Japon)
1994 "Centaur project" sculpture mobile, clay, RCA (Londres, GB)
1992 " Vie" Sculpture fil et toile sur les murs de Bratislava, (Slovaquie)