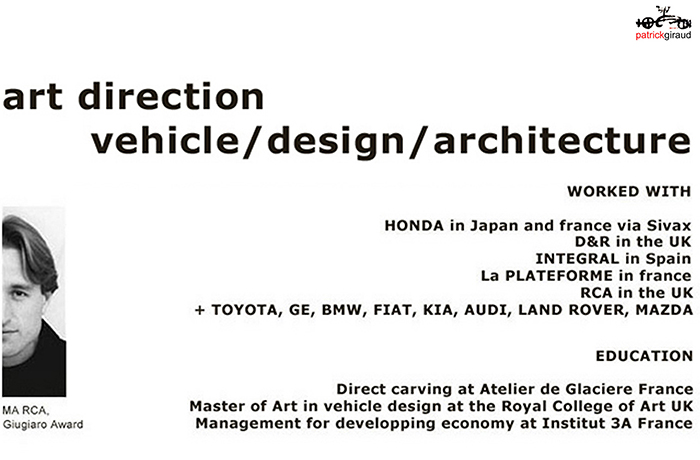 sculpteur styliste automobile
SCULPTOR VEHICLE DESIGNER 
Patjiro (Patrick Giraud) is a Sculptor & Senior Vehicle Designer. Former HONDA designer in Tokyo with an MA from the ROYAL COLLEGE OF ART in London and a Giugiaro Award for transport innovation.
Direction artistique
ART DIRECTION

Innovative art and design projects for galleries and clients internationally : HONDA, KIA, AUDI, LAND ROVER, MAZDA, Gallery Roger Tator, Créapole ESDI, Royal College of Art.
Expérimentations fait main
HANDS-ON EXPERIMENTATIONS

SCULPTURES, DRAWINGS, 2D and 3D,
Biomimicry, inspirations from Nature, Metaphor, Poetry & Art. Hands-on Experimentations playing with the magic qualities of materials in connection with sketching. Practice of Japanese calligraphy to balance line reflections in space or strokes of lights.